Peek-a-boo… Did you miss this face?! 🙂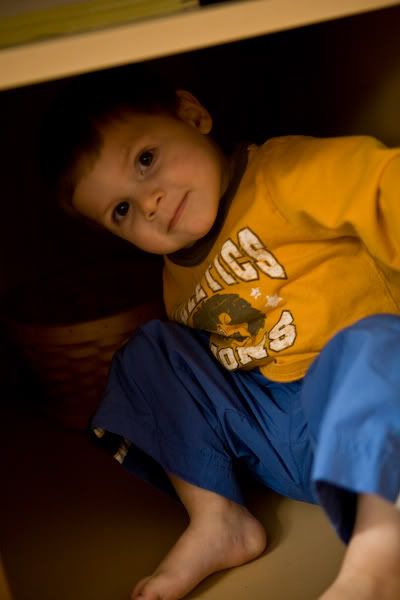 Jackson LOVES to hide in the cabinet — he thinks its a riot when you say 'Where's Jackson? Has anyone seen Jackson?" then he pokes his head out and cracks up giggling for a few minutes! I love that little giggle….
As promised – the report on our night away!! Last week Rick surprised me with booking a room for us away for a night on our anniversary of when we (re)met 4 years ago… We stayed at The Wentworth by the Sea in New Hampshire. It was awesome! It was a big night since I've never left Jackson overnight so to be honest I was a little nervous! I knew he was with Mi-Mi so he was in good hands I was just praying he wasn't a nudge!!! Turns out the day/evening for Rick and I was perfect and Jackson had the time of his life at home. It was very strange to sleep without the humming of the monitor in my ear though! It was almost too quiet — Two years with that thing in my ear every night!
At any rate – we walked into our room and what do I see — two dozen stunning roses for ME! My husband really is the most thoughtful husband in the world. He made sure the flowers were in our room waiting for us (WHICH by the way was the admirals quarters and we had a unbelievable room overlooking everything! – the ocean, the golf course, the harbor…. it was awesome!) Did I mention we had HEATED bathroom floors – two bathrooms – BOTH had heated floors…. how cool right! (Can you tell I never stay in hotels! haha)
This was the view from our room…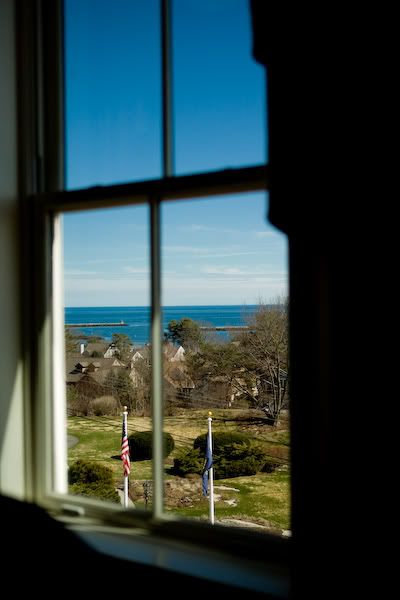 Check out the amazing flowers he had waiting for me.. they smelled heavenly and looked unbelievable. I've never seen roses like that…..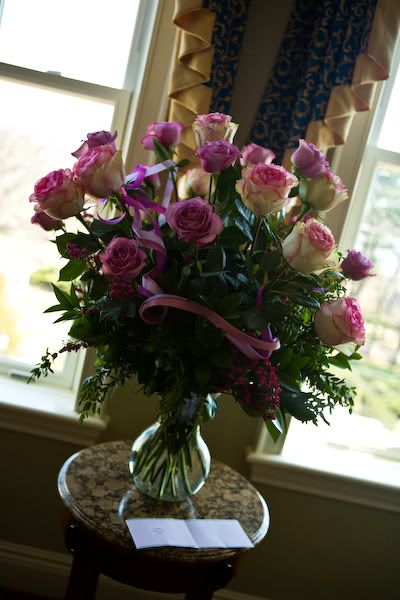 short and sweet:

Aren't they amazing! They were so big!! Pink and purple… my favorite roses! I would buy roses every week if I could afford it – I just love the way the look in the house… and of course they smell so pretty too… anyyyyways!
He also had some chocolate covered strawberries waiting for us as well… well they were SUPPOSED to be waiting for us until room service knocked on the door 5 minutes after we got there…. But they were DELICIOUS none-the-less! I could have had just those for dinner!!
(maybe its the pregnancy (aka mommy brain) but I started eating these before I took the picture– haha! oh well.. you get the point!)
We headed out to dinner in downtown Portsmouth, NH at a place called Poco's Bow Street Cantina Which was very yummy too – too cold to sit outside still but a beautiful view of Portsmouth Harbor.
Although we spent the day shopping for Jackson and telling one Jackson story after another.. and maaaaaybe text messaging my mom to check in a few times… we had a wonderful night away… I forgot how important it is to still take time for yourself and your marriage in the craziness of life and business… without taking care of yourself, how can you take care of everything else?!
Thank you babe – It was perfect and just what I needed! 2 years worth of waiting 🙂
Love you…
K